San Francisco Museum of Modern Art
November 20, 2009
Organized by PACIN and the Registrar Committee Western Region.

This all day workshop was geared towards museum and other professionals concerned with the safe handling of artworks and artifacts. Areas of focus included: The basics of handling practices in regard to installations, packing and storage; handling requirements of objects on loan with emphasis on technical and material requirements of each topical area; job descriptions; and educational opportunities. Training was also presented on how to build and/or expand staff in any collection-based program.
Photos from the workshop
PACIN Chair Brent Powell presenting "Overview of the Profession: Training, Hiring and Job Descriptions"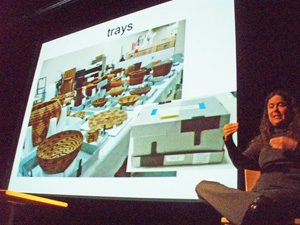 Angela McGrew, Objects Conservator at the Southwest Museum - Autry National Center, illustrates how storage mounts containing ethnographic objects are supplemented for use as shipping mounts. Signer seen on the right interprets the presentations courtesy of SFMOMA.
Michele Barger, and the rest of the SFMOMA panel discuss the process of working in colaboration with living artists.
Jacqueline Cabrera, Associate Registrar at the Getty Villa, discussed handling in the context of disaster preparedness.
---
Documents from the workshop