By Bruce Bundock

With images by Mark Wamaling and Jack Carr


The "Back To Basics and Beyond": Art Handling Workshop, held on June 22 at the Wadsworth Atheneum in Hartford Connecticut was sponsored by NEMA - the New England Museum Association and organized by the Registrars Professional Affinity Group, in partnership with PACIN.



The Event was an information packed event for entry level, mid-career and senior art handlers and collections care personnel.
Designed to refresh one's thinking on the best practices for the safe handling of museum objects, it provided an opportunity to contrast and compare strategies and methodologies used in one's own institution with that of others, always with an eye towards safe stewardship and sensitivity to the variety of public collections.




WELCOME
Opening remarks were made by Mary Busick, the Associate Registrar of the Wadsworth Athenaeum (seen at right), and Meredith Vasta, Registrar of the Mashantucket Pequot Museum and Research Center (at the podium), who welcomed the participants and announced that the workshop was the most successful in terms of attendance.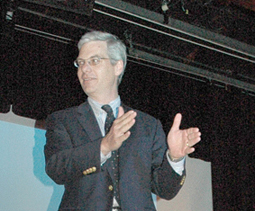 After "housekeeping" remarks, they turned the floor over to Dan Yeager, the new Director of New England Museum Association who came to the position with a strong education/networking background and extensive involvement in many professional organizations.





OVERVIEW OF THE PROFESSION
Brent Powell, PACIN Chair and Head of Preparation at the Asian Art Museum, San Francisco presented attendees with an overview of the art handling profession, from the early participation of directors, curators, general maintenance and grounds keepers to the evolution of a museum staff with more specialized skills and interests. He gave a background of how museums moved from a "static" to a more dynamic use of collections. This new use of the collection was based on active lending practices, production of traveling exhibitions as well as permanent collections re-designed to show the breath of the collection on a changing basis. These changes created the adoption of new goals, and methodologies with respect to handling, display and overall care of the collection.


Underscoring the key issues of preventive conservation, the goal of not damaging the object calls for the adoption of the best standards available. A professional attitude is to be promoted by all staff members in house as well as outside contractors who are responsible for handling objects when hired by an institution. This professional, trained work ethic should be encouraged as it promotes the safe handling of the collection and less institutional risk.


When talking about job qualifications for art handlers, Brent spoke of prospective candidates having backgrounds in previous museum experience, commercial galleries or antiques markets, commercial fine art shipping and transport companies or technical craftsman. Attention to detail, communications and solid technical skills were primary factors of any selected candidate.




WORKS ON PAPER OVERVIEW
Sarah Dove, independent paper conservator from Mystic, Connecticut, explained that the large majority of problems with paper due to improper handling and framing by well intentioned but misinformed individuals can be avoided. She presented the audience with a number of techniques and guidelines such as how to move large, fragile works, the best materials for conservation framing, importance of making sure procedures employed are reversible and the use of large flat files to store works.


In keeping with a preventative conservation philosophy, she emphasized a number of key points such as making sure one had a clean and sufficient space to examine works, a temperature/humidity controlled environment, UV tube filters for fluorescent lighting, handling objects one at a time and only when necessary, getting assistance if the work is too large and treating it as if it were the most important work in the collection.





PAINTINGS: TRADITIONAL AND CONTEMPORARY
Walter Anderson, Collections Manager at the Brooklyn Museum, complemented Sarah Dove's presentation by emphasizing the need to be cautious when dealing with paintings and that the effects of what can go wrong due to improper handling can show up later.

He drew on an early text by George L. Stout called "The Care of Pictures" in which the author advises to "think of a picture in all cases as an object that is fragile, that could be damaged by a thumb nail or sleeve button. Before picking up a framed picture, look carefully to see what it is, how it is fixed in the frame, and where you can safely take hold of it."

He presented the audience with the evolution of painting from static work such as seen on a cave wall to fresco, to the technological breakthroughs that led to transportable works on panels and canvas. He presented to the audience a sampling of a range of painting styles and the challenges involved in their handling from traditional works with "sculptural protrusions" (carved, gilded frames) to more minimal, contemporary styles.

He spoke of paintings with cradled panels that lent support to the work, backings for paintings, handling frames for unconventional objects, various hardware and the more efficient D-rings over screw eyes as hanging devices, wall cleats, a variety of padded blocks to rest paintings on, and removing vintage picture wire. He also spoke or proper equipment in the of frame carts, dollies, padded bins as well as adopting the mindset of not carrying works for long distances, never assume the frame itself is a handling device. Use of gloves is dependent on framed or unframed types of painting.




3-D OBJECTS
This segment was presented by conservator John Childs, Collections and Conservation Center, Historic New England, MA.
He emphasized the importance of all staff working together in a team effort, and a list of do's and don'ts when working with 3-d objects such as examining the object carefully and assessing the condition and basic structure of the work, handling the object close to the center of gravity where appropriate and using suitable gloves.
On the subject of gloves he recommended the use of nitrile gloves for ceramics, glass, metal, and mixed media. Cotton gloves for paper, textiles lacquer and furniture mounts. He added that each institution and conservator will have a preference.


Some of the "do's and don'ts" entailed NOT lifting objects by the object's extremities, pushing or pulling objects across table or the floor, attempting to lift objects that are too heavy or awkward by one's self and removing watches, key chains and belts that might potentially come into contact with the piece while lifting or in transit.

He recommended boxes, trays and carts to support even the shortest move. He also showed the correct ways of handling furniture such as opening drawers on period piece furniture (not by the handles but by the edge of the drawers).


On the subject of packing and crating for single and multiple venue travel, he offered some excellent power point images with commentary. He discussed such topics as soft packing for internal moves, using acid free tissue or polyethylene film against the object and wrapping the object in padding. When packing for single venue travel the objects can be placed in cardboard boxes with interior urethane foam. For multiple venue travel he recommended cavity packing objects in archival boxes, multi packed in crates, guillotine or brace packed.


---

LUNCH AND OPEN FORUM
Lunch was followed by an informal "question and answer" period with the morning presenters before participants moved on to the afternoon portion of the workshop.

---
TEXTILE AND COSTUME
Susan Jerome, Collections Manager for the Historic Textile and Costume Collection at the University of Rhode Island, presented a wonderful overview on costume and textile care. It began with discussion of an institution's mission statement, accession policy, finding out where there are holes, if any, in the collection policies.


It then proceeded to equipment and materials used specific to textiles such as vacuum cleaners, screens for vacuuming and washable gloves. She spoke of the use of various clothes hangers that could be manipulated to fit a garment and the need to provide various methods of padding them using cotton or polyester.


Other materials were presented for storage and handling included muslins, Tyvek, tissue, and plastic for covering, interleaving and/or wrapping textiles. She noted that textiles should be protected from wood or wood base products. Examine the object (e.g., the fabric, fiber, any finishes or embellishments) that might come in contact in regard to material which will come in contact with.


On garments that might be put on mannequins use a mannequin that fits as close to the garment you want to put on it. She also spoke of the use of hangers (metal preferred) and the need to provide various methods of padding them using cotton or polyester.


She advised that when writing accession descriptions you should include any broken or missing warp or weft yarns, loose stitches, soils, stains, fold lines, corrosion due to any metal components such as zippers, mold, mildew, yellowing due to starch which attracts insects.


She also noted to look out for any information on the artifact manufacturing and/or care labels. She advised that the description should define the object with the object's name, gender, date, fiber, and any unusual identifying characteristics should all be noted. Keep records, identify problems with garments, identify all labels and vacuuming is essential before putting objects in the collection.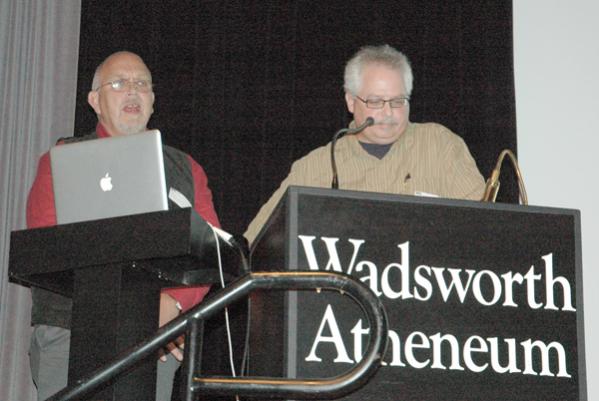 LARGE OBJECT HANDLING
The large object handling was co-presented by Mark Wamaling of Artex and PACIN Chair, Brent Powell, who came to bat for Ben Badoud of the Mariano brothers at the last minute. Ben could not attend due to recent illness.


Mark and Brent opened their presentation by drawing the audience's attention to the basic assessments and approaches available for large object handling. Moving large objects is a serious matter and the speakers emphasized that one has to be at the top of their game, so time has to be established to note possible threats to the object such as abrasion or breakage when handling and photo documentation should be implemented.


A plan has to be developed. Large objects take more time for how the move is made. A clear path has to be established with appropriate floor protection, noting potential obstacles, doorways, etc. Assess the object in question, such as: is it a single or multiple component object , what is the weight, have there been any repairs over time to the object, any pins, mounts or anchors, where is the center of gravity and the use of the right and trained staff or contactors to manage the equipment. Different issues may arise whether the work is to be moved indoors or outdoors.


There is a choreography in moving large objects that involves all participants with one primary supervisor who should explain to each person what they are expected to do. All handlers should have proper safety equipment, such as safety shoes, hard hats, and gloves. When dealing with outside contractors, information all should be should be created or shared about the object with the creation of an action plan for the move. Also, prior to the move, the work area should be isolated with barriers and signs for protection and limited to only essential people within those barriers.





DOCUMENTATION
The section on documentation was presented by Darlene Bialowski of Darlene Bialowski Art Services, Spofford, New Hampshire. Topics covered were object movements, emergency plans, and damage procedures. Darlene emphasized the importance of consistency in guidelines and procedural development, adding that one should maintain a binder of locations, an object movement log, and a filmmaker system, such as TMS.


She added that one should always keep records updated and that tracking sheets will aid in doing inventories and audits. On locations, for instance, a schematic or artist's rendering of a floor plan of all public spaces could be developed that included stairs, windows and entrances. Moving to non public spaces, a floor plan of all offices, secured and non secured storage areas could be initiated, and further broken down to include painting vaults, racks, and shelves.


In storage spaces she encouraged the audience to think about how shelves racks and rooms will be organized, which can be relayed to a database once they are all identified. All floor plans and or drawings could and should be kept in a binder for periodic updating and reference. On creating documentation, she suggested one form to record movement such as accession number, title of object and brief description, the reason for the move, the date it was moved and who moved it. The forms should be legibly written and easily available to all staff members and where they will be stored for future data updating.


PAG Resources Handout
HANDLING EQUIPMENT
The final topic of the afternoon was co-presented by Clark Crolius- Exhibitions Manager, Yale University Art Gallery and
Christina Czap - Lead Preparator,
Yale University Art Gallery.
This presentation covered a variety of proven tools and equipment involved in an in house setting such as painting carts, bins, palette jacks, scissor lifts and dollies.


Of these four areas distinctions were made such as: never putting tools on the same cart as the object being moved, noting the variety of wheels available for carts and what effects different types of wheels could have on a gallery floor. Discussion of various types of hydraulic equipment such as tables, scissor and fork lifts and the maintenance of the hydraulics to prevent possible leakage as well as the suggested use of masonite sheets to protect the floors when using heavy equipment. On the subject of painting carts, they come in several forms yet serve the same purpose. Two "drivers" are recommended during transport and the use of straps on painting carts is recommended.


The speakers also showed the audience some ways to modify carts for more surface area such as a cart "topper" made from plywood and the same for dollies that might need to have a means of covering their openings for special object movement situations. The speakers encouraged the audience to get in the habit of returning tools to their rightful places after the job at hand and knowing the weight capacities of carts and lifts.


Here are a few other images from the workshop:


Portland workshop to follow
http://www.pacin.org/content.php?132-Upcoming-Workshops