Preparators Conference 2012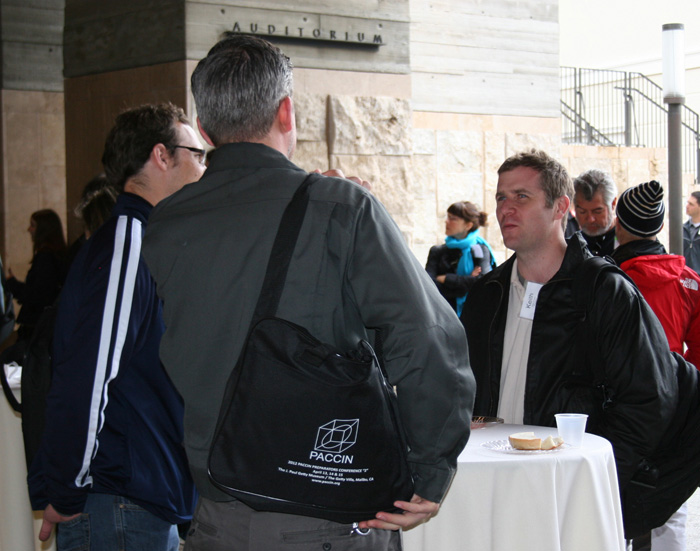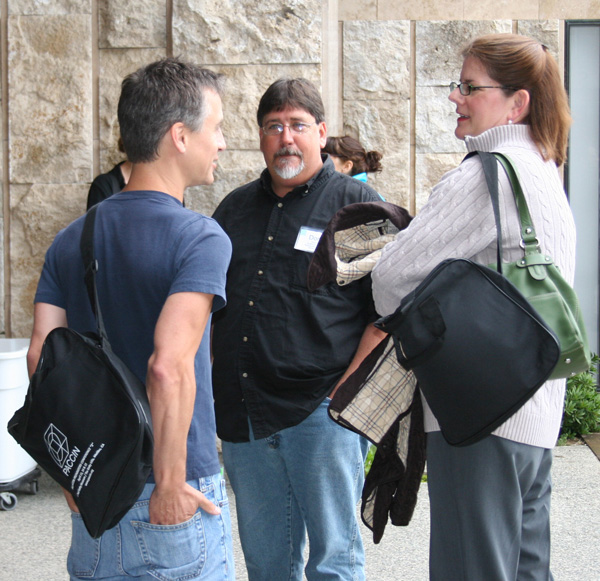 How do these happen? Some credit where credit is due -
This conference would not have been possible without the support of the following organizations.

2012 PACCIN
PREPARATORS CONFERENCE 2
April 13, 14 & 15, 2012
at the Getty Villa Museum, Malibu, California

PACCIN Prep Conference, Friday, April 13:
8: 00 – 8:45 Check in and Breakfast

Registration Check in for attendees with coffee and pastries


8:45-9:00 Introduction


Virtual Introduction by Brent Powell, PACCIN Chair


9:00-9:45 Preparator Forum


Patricia Silence, Conservator Colonial Williamsburg, Williamsburg, Virginia


Danny Metcalf, Senior Technician, National Gallery of London, London, England




Simm Steel, Lighting Designer, Art Gallery of New South Wales, Sydney Australia


Panelists will discuss the various professional roles and responsibilities of preparators within the collection care environment of institutions and commercial settings. The session will focus on working relationships, training, health and safety issues.


9:45-10:30 The Transport and Display of Icons from Saint Catherine's Monastery, Sinai, Egypt

The presentation will focus on the key concepts involved in the planning and execution of an exhibition and the working relationship between the collection care staff. An example of a complicated exhibition with a successful outcome was the transport and installation of the Icons from Saint Catherine's Monastery, Sinai, displayed at the Getty Museum.
Speakers:
Tiarna Doherty, Chief of Conservation, Lunder Conservation Center, Smithsonian
American Art Museum, Washington, DC
Bruce Metro, Former Head of Preparation, J. Paul Getty Museum
Rita Gomez, Lead Preparator, J. Paul Getty Museum


10:30 – 11:00 Break: coffee and pastries


11:00-12:00
Display Case Design / Fabrication / Mounts / Materials




Above insight from the exotic to the everyday.
On the left find black Sorbothane (a viscoelastic polyurethane "gel-like" material in "donut" form that represents the most effective material currently in use for vibration damping in crating. On the right see "homemade" custom sized silica gel cassettes made primarily with materials from your local Home Improvement Center.

The presentation will focus on the various aspects of design and fabrication of display case construction. Case design development, fabrication, and creating display options for the object will be discussed. The presentation will cover material use in regards to environmental controls, interior lighting, security options, custom finishes and ease in handling access of the object.
Speakers:
Fabricator: Michael Mitchell, Lead Preparator, J.Paul Getty Museum, Los Angeles, CA
Designer: Ann Marshall, Partner and Exhibition Designer, ELY Inc., Los Angeles, CA.
Mountmaker: BJ Farrar, Mountmaker, Antiquities Conservation, J.Paul Getty Museum at the Getty Villa, Malibu, CA


12:00-1:00 Boxed Lunch


1:00-1:45 Exhibition Crating
and Packing VIDEO ONLY




In this video John Molini will discuss various examples of custom designed crating for traveling exhibitions which include: paintings, sculpture, pastels, and oversized objects in relation to transport and exhibition handling requirements. Each style of crate will emphasize the use of alternate materials in crate construction and interior packing designs as developed for use at the Art Institute of Chicago. The aim is to control and protect the objects from the rigors of transport such as: shock/vibration, fluctuations in climatic conditions, handling, and equipment.
Speaker:
John Molini, Head of Packing and Crating, Art Institute of Chicago, Chicago, Illinois


1:45-2:30 Exhibition Installation



Zak Cook discussed the construction, deinstallation, transportation and reinstallation of the contemporary kinetic installation project titled Metropolis II, Chris Burden's installation at Los Angeles County Museum of Art, fall 2011. This presentation discussed in detail the many months of work that went into the pieces fabrication and the challenges of both moving and reinstalling the work to the tolerances required for it to perform as intended. The talk ended with the display of a video of the piece in operation which can be veiwed below.




Speaker:
Zak Cook, Designer, Project Manager, Los Angeles, CA


2:30-3:00 Break/ Coffee


3:00- 4:00
LED Lighting

The presentation will focus on the latest in research and technology of LED lighting by two of the leaders in the field. The subject of LED lighting in the galleries has been controversial. The goal of the presentation is to eliminate the myths and educate attendees with current guidelines for choosing LED's, and the costs associated with the use of LED's.
Speakers:
Jim Druzik, Senior Scientist, Getty Conservation Institute, Getty Trust Los Angeles, CA
Scott Rosenfeld, Lighting Designer, Smithsonian American Art Museum, Washington, DC

Get a copy of the Getty's most recent publication by using the link below

http://getty.edu/conservation/our_pr...omponent8.html



4:00-5:00
Attendees are invited to tour the museum on their own.
5:00-7:00
Reception at Getty Villa
Museum

PACCIN Prep Conference, Saturday, April 14:
8:00 – 8:45
Check in and Breakfast
8:45-9:00 Introduction to day's events


9:00-9:45 Equipment Presentation

The presenter will address the innovative approach to equipment design engineered by the National Gallery of London. The session will address the innovative approach to equipment design and equipment engineering within institutions and commercial fine art companies. Examples of equipment type will be discussed from basic equipment, modified attachments to existing equipment, to specifically designed equipment for challenging objects. Also the issues of working with certified engineers and maintaining compliance with work

health and safety regulations.
Speaker:
Danny Metcalf, Senior Technician, National Gallery of London, London, England


9:45-10:30 Materials Presentation

The presentation covered both traditional and new materials for use in common applications and addresses how results from Oddy testing both informs and at times complicates the decision making process in terms of their best use.


Speakers:
Ashley McGrew, PACCIN Publications Chair, Private Consultant, La Cresenta, CA,
Ozge Gencay Ustun, Objects Conservator, Southwest Museum of the American Indian, Los Angeles, CA


10:30-11:00 Break / coffee
11:00-12:00ng Rigging and Handling of Large Objects


The presentation will focus on the challenges of handling large objects in various installation scenarios with emphasis on equipment, transport and specific planning requirements for site specific needs for indoor and outdoor installations.
Speakers:
Scott Atthowe, President, Atthowe Fine Arts Services, Oakland, CA
Kevin Marshall, Head of Preparation Department, J.Paul Getty Museum, Los Angeles, CA


12:00-1:00 Boxed Lunch


1:00-1:10 Introduction to Afternoon Getty Villa Museum Tours

The attendees will be split into three groups. Each group will have a 45 minute tour/discussion at each of the different locations. Speakers of each tour will discuss their particular work environment and address equipment and materials they encounter when working with collection objects. The goal is to create a Q & A dialogue and give the attendee the opportunity to participate in an open forum atmosphere.


1:15-4:00

Tour 1 / Conservation Labs / Mount Shop / Material Display & Testing

Tour 2 / Conservation Labs / Mount Shop / Material Display & Testing

Tour 3 / Conservation Labs / Mount Shop / Material Display & Testing
Tour 4 / Conservation Labs / Mount Shop / Material Display & Testing
Tour 5 / Conservation Labs / Mount Shop / Material Display & Testing



Jerry Podany - head of Antiquities Conservation at the Getty Villa Museum, discusses seismic isolation during tour.

He describes how isolators work in this Video



Also check out this nifty animated version:





Examining Oddy test results of barrier materials during tour.


4:15-5:00
Conclusion / Wrap-up Forum Discussion


7:00-10:00 Evening reception at the Santa Monica Pier Carousel (National Registrar of Historic Places) Sponsored by Cooke's Crating and others.


PACCIN Prep Conference, Sunday, April 15:
The third day of the PACCIN Preparators conference goes beyond the conferences first two days that are focused with essential information about the latest developments in our unique discipline within the field of preventive conservation. The most valuable results for attendees are often the result of one-on-one interactions between colleagues. Although impossible to schedule into an event of this sort explicitly this kind information can actually offer the greatest benefit for each museum or company represented because the results are institution-specific.

Day three is not just about social interaction. It features informal visit in the morning to first the J. Paul Getty Center followed by a visit to the Los Angeles County Museum of Art.

.


The museum tours will be followed by a visit hosted by LA's Arts Services Guild, a multiple disciplinary group of collection care professionals who pool their resources to help promote and develop their individual businesses. This model provides an intriguing employment option that lies somewhere in between working full time for an organization or company and the sometimes daunting prospect of existing as an independent unaffiliated professional. This is of particular interest because many of the fields best technicians don't necessarily demonstrate much talent in the area of self-promotion.




Julia Alison, Project Management.



Activities scheduled for the afternoon include the exploration of an innovative display case design based on discussions from the PACCIN listserve that promotes the rapid change-out of exhibition materials and a demonstration of how mounting systems that integrate display, storage and shipping functions can minimize or eliminate direct handling of the objects in question.





T. Ashley McGrew and Mike Mitchell discuss case design details


This final event of the conference will take place from 2 -5 PM at Atwater Crossing located at 3245-3191 Casitas Ave. LA, CA 90039 in Atwater Village an area that is home to new theatres, two microbreweries, and three of the best beer bars in the LA area. Thanks to the generousity of the Guild food an both alcoholic and non alcoholic beverages will be provided free of charge to conference attendees. We hope you are able to extend your visit to include this time to visit with members of the PACCIN board and your peers from other museums and companies before heading back home.

NOTE: Attendance to the 3rd day is optional and we understand it is a travel day for many attendees. We are currently seeking sponsorship for transport to these events and will notify registrants of the details as they are confirmed. Return transport from Atwater Village will be at attendee's expense.

UPDATE: Registration form attached to this article and at the Forum here.
Deadline for registration is March 11, 2012.
Colleagues,
I would like to invite you to the 2012 PACCIN Preparator Conference "2" to be held on April 13, 14 & 15 at the Getty Villa Museum in Los Angeles.
Presentation Topics include:
·
Exhibition case design and fabrication
·
Most current research and buying guidelines for LED lighting
·
Installation, Packing and Handling methods and materials.
·
Forums on work safety, communication between collection care staff, training and professional staff outreach.
·
Sunday (optional) site visits to other museums / commercial facilities.
Registration:
·
The registration for this event will start January 25
with the last day of registration being March 11th. We are limited to 150 attendees.
·
Final details and registration forms will be sent out later this next week on the PACCIN List Serve and on the PACCIN Website.
Budget Costs:
Registration Fee: $200.00 per attendee.
Hotel costs: Recommended lodging close to Getty Villa: $150 - $220 per night / Hotel rates and details will be included in registration information.
Meals: All meals included except for two evening meals / one evening event (drinks and food) to be sponsored.
Transport: Shuttle buses are being arranged to collect attendees from hotels each morning, other transport is at your own expense.
For further information regarding budget costs please contact Brent Powell, PACCIN Chair directly at
bpowell@artexfas.com
and cell: 415-203-1801. If you need assistance in communication to your supervisor or a recommendation to what the professional importance of this event is, please let me know, PACCIN will help push it along.
I look forward to your attendance and sharing with your colleagues at this our 2
nd
Preparator Conference, this year at the Getty Villa.
Regards,
Brent Powell
PACCIN Chair
Artex NMHM Project Manager
Cell: 415-203-1801
April 13, 14, 15 2012
Registration fee: $ 200
Registration opens: January 2012