As part of our membership program, we are happy to introduce a new website feature, the Member Profile. To help our members get to know each other, Chris Moreland, Head Preparator at the Saint Louis Art Museum and a member of our membership committee, will be interviewing various individuals and sharing the highlights of his conversations.
Interviewed by
Christopher
Moreland
In our collections based professions we always meet a wide variety of talented people. PACCIN is our community where those can combine ideas, practices, and connect to promote the awareness and importance of cultural preservation. Our members are in the field, as individuals that can share each otherís experiences and foster growth. We are PACCIN and I would like to share those stories for the community to honor these professionals.
--Chris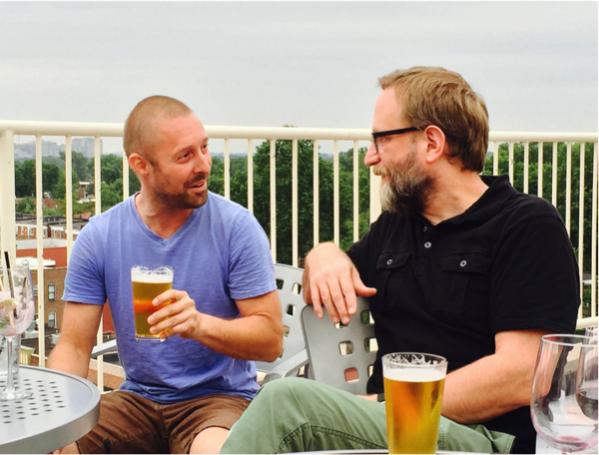 C
.
M
. Can you tell us a little bit about your current position (title, responsibilities, what department you work under, etc.) and other relevant work history as it relates to your current position?
K
.
C
. I am currently the collections manager for the Philadelphia Museum of Artís off-site collections facility. My position is part of the registrarís department. I monitor and track the safe storage and comings and goings of the objects stored at the facility. Iím in frequent contact with registrarís, art handlers, curators, conservators, and scholars. Prior to this position I was the chief preparator at the Carnegie Museum of Art, the head preparator at the Saint Louis Art Museum, the associate preparator at the Whitney Museum of American Art, and the chief preparator at the Fred Jones Jr. Museum of Art at the University of Oklahoma. I also worked for a private paintings conservator for a number of years, as well a Fine Arts Shipper in NY.
C
.
M
. How did you get into this line of work, and what was that trajectory like?
K
.
C
. I think like a lot of people it began as a means to make a living while I made art, as well as an opportunity to be around incredible artwork while doing so. My first job was working for a private paintings conservator in Houston, Texas. I learned much more about making paintings there, than in art school.
C
.
M
. Are there memorable moments, with artists, particular artworks, or exhibitions that stand out since you have been doing this kind of work? Have these experiences changed the way you had previously viewed things?
K
.
C
. There have been so many it is difficult to isolate a particular instance off the top of my head. I have had the opportunity to work with major artists, handled insanely incredible and important works of art, and had the opportunity to travel while doing so. Living and working in NY de-mystified a lot about the art world both positively and negatively and was an eye opening experience for me at the time.
C
.
M
. What are some of your favorite aspects of the work you do?
K
.
C
. Physically dealing with the art is by far the most rewarding to me and I still feel very privileged in being able to do what I do. Iíve also met, and continue to meet, a lot of incredible people while doing so.
C
.
M
. On the flip side of that, what are some of the more challenging or least favorite aspects of the work you do, either past or present?
K
.
C
. Managing people can definitely have its challenges. The anxiety surrounding exhibitions can also be unpleasant. Both those things also have very positive and rewarding aspects of course, but you did ask for the flip side (smiles).
C
.
M
. Was this a career path you chose or saw yourself moving into when you were first starting out?
K
.
C
. I didnít have a definite vision of what I wanted other than to figure out something I could do so that I could support myself while making art. It was kind of a happy accident that it became a career that I love.
C
.
M
. Have you had influential or important relationships that have helped mold you in your career?
K
.
C
. Absolutely. Iíve had many positive and important relationships and mentors, but Iíve also learned from some not so positive people. Difficult and unpleasant people can still have a lot of wisdom and knowledge to impart. And if they donít, sometimes you can still learn from them. Being around bitter and negative people has made me a more positive person as I donít want to become one of them.
C
.
M
. Have you seen changes in your field that have been noticeable since you first started doing this kind of work?
K
.
C
. The most noticeable off the top of my head are ones that are the result of museums re-defining themselves in the 21
st
century, and a big part of that is funding. These two things are frequently brought up when speaking to my peers at other institutions.
Increasingly aggressive exhibition schedules. The balance between collections and exhibitions work for many prep crews is now very lopsided with the vast majority of the work being installation related.
This one will make me sound old but museums are becoming much more about entertainment in order to bring in their audiences. I get it, but trying to look at a Giorgio Morandi painting while kids play with interactive blocks in the same room; or music or treasure hunts are going on, can really kill the contemplative experience for me. That makes me sad.
C
.
M
. Do you have any advice to someone beginning a career in this field? How long have you been aware of PACCIN and what has it meant to you professionally?
K
.
C
. Hmmm, advice. I have a lot actually but let me just keep it pared down and simple.
Donít lose sight of what brought you to the field in the first place, which I imagine is the art itself. You work in a special atmosphere and with very special objects.
It is work, and work can be difficult, stressful, and sometimes unpleasant. Like anything, it has ups and downs, but you are being paid to do it.
I have been aware of P.A.C.C.I.N. since the late 1990ís. I got involved as a participant in 2008 I believe. It has meant a lot professionally as I have engaged so much with my peers at other institutions, as well as having made me feel like a part of a larger community.
If you know of a PACCIN member that you think we should profile, please contact us at
info@paccin.org
.