Luke Boehnke giving a rigging demonstration using a gantry and two chain falls.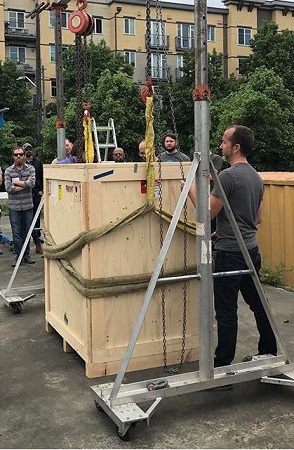 On May 19th and 20th PACCIN provided two rigging workshops at the Pratt Fine Arts Center in Seattle, WA. The 100+ art handlers, preparators, and other collection care people who signed up were divided between the two workshops. Each day provided the same classroom presentations and rigging demonstrations.

Some of the topics covered in the classroom presentations were: Compression lifting rigs by Kevin Marshal, PACCIN Advisory Committee member and Head of Preparation Department at J. Paul Getty Museum, Los Angeles, CA. and another on Installing Houseago's Giant Figure (Cyclops) by Julia Latane, PACCIN Programs Chair and Head Preparator at The Broad, Los Angeles, CA.

The rigging demonstrations were provided by Luke Boehnke, Principal, Wolf Magrittee LLC, Missoula, MT, going through the various methods of lifting an object as well as a review of the equipment used with a gantry. Overall, the two workshops were successful in providing valuable information and getting the attendees familiar with safely rigging large and heavy objects.

Additional local support for the workshops was provided by Mike Hascall, Founder, and Chad Wasser, CEO/President, at Artech Fine Art Services as well as Elizabeth Mauro, Principal, Art Installation and all the other volunteers who helped make these two PACCIN workshops a success.


Presenter Info

Luke Boehnke
Principal
Wolf Magritte LLC
Missoula, Montana
luke.boehnke@gmail.com
773-314-3191

Luke Boehnke is the principal of Wolf Magritte LLC, located in Missoula Montana. Wolf Magritte specializes in design, fabrication, engineering, and rigging for complex and/or large-scale art and artifact installations. Luke Boehnke received his MFA from the School of the Art Institute of Chicago, and has extensive background in sculpture, architecture, and art history. He has taught metal fabrication studio courses for the School of the Art Institute of Chicago, and art rigging courses for the Campbell Center, the Metropolitan Museum of Art, and the Whitney Museum of American Art. Luke's problem-solving expertise is diverse and comprehensive, and he has worked with numerous institutions and clients in more than thirty states and multiple countries.

Kevin Marshall
PACCIN Advisory Committee
Head of Preparation Department
J. Paul Getty Museum
Los Angeles, CA
Kmarshall@getty.edu
310-440- 7058

Kevin Marshall has served as the Head of the Preparation Department for the J.Paul Getty Museum at the Getty Center and the Getty Villa with a staff of 23 since 2011. Between 2005 - 2010 he was the Lead Preparator at the Getty Villa where he managed the collection move and oversaw installation of the permanent collection of Antiquities and special exhibitions. From 1995 - 2004 Kevin was the Lead Preparator for the pack and move of the permanent collections to the Getty Center and collection installation as well as special exhibitions. Prior to joining the Getty, Kevin was a Special Services Supervisor for Fine Arts Express in Fort Worth Texas from 1985 - 1995. Prior to that he was a Driver/Art Handler with Direct Art Delivery in New York, NY. 1984 - 1985; and Preparator at the Amon Carter Museum in Fort Worth, Texas 1983 - 1984.

He holds an MFA degree in Printmaking from Texas Christian University, Fort Worth, Texas 1983.

Kevin served as the Programs Chair for PACCIN from 2011 - Jan. 2017. He currently serves on the PACCIN Advisory Board.

Julia Latané
PACCIN Programs Chair
Head Preparator
Project Director, Diversity Apprenticeship Program
The Broad
Los Angeles, CA
jlatane@thebroad.org
213-232- 6228

Since 2014, Julia Latané has served as Head Preparator at The Broad, a contemporary art museum in downtown Los Angeles. For over 20 years,
Ms. Latané has built and installed exhibitions in museums and galleries, including as Head Preparator of the Autry Museum for six years, and as a freelance preparator for the Broad Art Foundation, Gagosian Gallery, and the Santa Monica Museum of Art. She studied and practiced sculpture, and has also worked building crates at a fine art shipping company, and doing construction, including carpentry, home remodels, and building warehouses into art studios. She is a Founder of the Museum of Contemporary Art in Tucson, Arizona, where she served as President of the Board and curated the inaugural exhibitions. MOCA Tucson celebrated its 20- year anniversary in 2017.

In 2017, the Institute for Museum and Library Services awarded The Broad a National Leadership Grant that Julia wrote to create a Diversity Apprenticeship Program (DAP) for preparators with 16 apprenticeships and a replicable model to drive industry wide change. She is the Project Director for the DAP.



Sponsor for the Saturday rigging workshop

Sponsors for the Sunday rigging workshop

Additional support was provided by



The Lumiere Group LLC