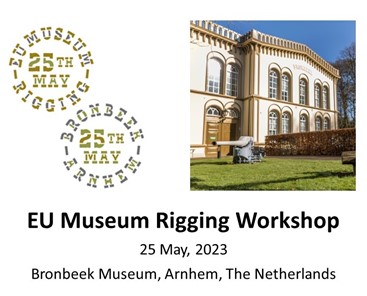 PACCIN, in partnership with the Stedelijk Museum Amsterdam, the Bronbeek Museum, the Dutch Ministry of Defense, and ICOMAM hosted a rigging workshop at the Bronbeek. Over 100 museum and fine art service professionals from all over Europe attended this one-day event.
Workshop Schedule

The morning presentations provided some working examples of rigging art and an introduction to the theory of rigging.
Kevin Marshall giving his morning presentation

The Key note speaker was Kevin Marshall, former Head of Preparation at the J. Paul Getty Museum in Los Angeles; also, former PACCIN Programs Committee Chair and an expert in packing, rigging, transporting, and installing cultural heritage. His presentation provided examples of rigging projects Kevin has been involve with at the Getty.
A presentation on the theory of rigging, centers of gravity and the various rigging slings (straps) was presented by army adjutant Arno (photo below).
Crane Demonstration was conducted outside
Afternoon Demonstrations

After lunch, the attendees were divided into four smaller groups that participated in various rigging methods on gantries using chain falls and slings. Our one sponsor, Turtle uNLtd, provided some of their cases for the rigging demos.
We would like to thank the Dutch Ministry of Defense and the Bronbeek Museum for providing their equipment, riggers, and museum location for this workshop. Photos provided by the Military of Defense and Apice. You can also check out the article from the Dutch Military of Defense Magazine
here
.

PACCIN Sponsors for this workshop

We would also like to thank the five companies listed below that provided financial support of this workshop. Without their support, we could not provide valuable programs such as this one. We look forward in working with other museums to provide future programs in Europe so we can collectively help improve standards in collections care for all of us.