The Preparation, Art Handling & Collection Care Information Network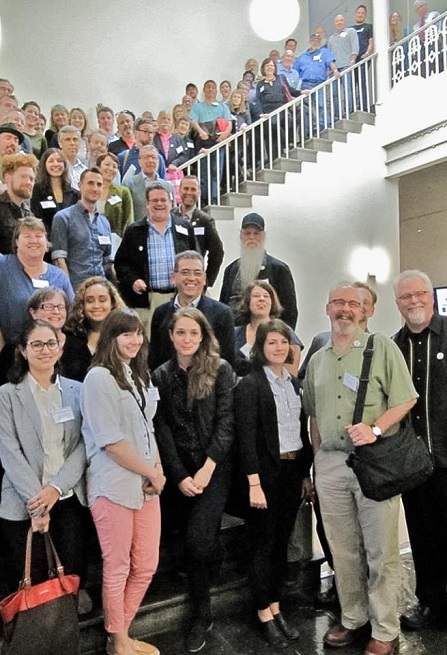 This is a one-stop site to create your PACCIN profile,
look up fellow PACCIN members, and pay your dues.

Future events, conferences, workshops and surveys will be
broadcast from this site, as well as PACCIN.org, along with
other news and information about your membership.
​

Powered by Wild Apricot
Membership Software


What is PACCIN?
PACCIN is a 501(c)3 non-profit organization created by, and supporting the work of, hands-on collections care professionals. Our constituency is comprised of museum and gallery professionals throughout the world from both the institutional and commercial sector of the industry.
We are a network of professional colleagues engaged in dialog aimed at establishing the guidelines and best practices needed to secure a sustainable future for both the materials that illuminate our past and the people who are responsible for their preservation. If your job puts you in contact with art, artifacts, or other collections, then you are one of us!
Professional Network
The PACCIN network includes preparators, packers, mountmakers, conservators, registrars, and exhibition designers, many of whom are recognized experts in their respective fields. PACCIN provides opportunities for on-line and face-to-face interactions.
Technical Information
PACCIN provides the largest collection of resources for anyone who has to handle, install, pack, or ship art and artifacts.
Career Development
PACCIN programs and resources provide valuable skills and knowledge to help you advance in your professional career.
Resources & Programs
Our website is a vast research library of information, and provides updates on current technical and material usage.
Our listserv provides dialogue among the PACCIN network of professionals who can help solve problems, find materials, or assist with any other need you may have to get your projects done properly.
Our programs include conferences and regional workshops that offer the best technical information presented by the leaders in their field. Additionally, PACCIN organizes free social programs.
Membership Benefits
• Online membership directory
• Member-to-member connections through the website and events
• Early notification of PACCIN workshops and events
• Program discounts on workshops and conferences
• Opportunity for input on special surveys
• Membership card and certificate for being a supporter of PACCIN
Membership Fees
Individual - $30
Student with valid ID - $25
Sustaining Membership - $50
Sponsor - $100
Members may join at any time of the year and their dues will cover membership for one year, ending on the last day of the month during which payment is received.
Sponsor-level membership is open to anyone opting to pay the increased fee. The benefit of joining at this level is knowing that you are supporting your professional organization.
CONTACT US
PACCIN is a non-profit, all volunteer group and your membership will give you a voice, strengthen your knowledge and skills, as well as support your career in collections care. To become an active volunteer contact the PACCIN Chair, Mark Wamaling, or any of the committee members listed on the website.
Email:
mark@paccin.org
Web:
www.paccin.org
www.facebook.com/PACCIN.org
https://www.linkedin.com/groups/8351634